Get 6 Tips to Reduce T&E Waste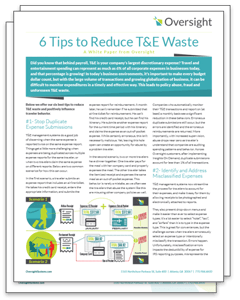 Whether your employees are traveling for business or "bleisure," there's likely some waste and misuse happening in your T&E program.
Policy abuse, fraud, and unforeseen T&E waste can cost organizations with an average of $10 million in travel spend roughly $500,000 in annual out-of-policy spending.
You need to make every budget dollar count. But the large volume of expense transactions and growing globalization of business makes it difficult to monitor expenditures in a timely and effective way.
Download our 6 Tips to Reduce T&E Waste white paper to see how to positively influence traveler behavior and save your company money. You'll learn how to:
Stop duplicate expense submissions
Identify and address misclassified expenses
Focus on suspicious out-of-pocket expenses
Beware bleisure, weekend and holiday purchases
Keep an eye on lodging and meal outliers
Monitor patterns of expenses under the receipt limit
Please fill out the form to download your copy.